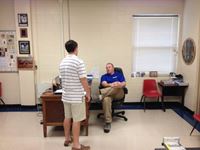 At Piedmont High School, we strive to make our school a safe and orderly environment for all of our students. If you feel as though you or someone you know is a victim of a bullying situation, please tell a teacher, counselor, or administrator immediately.

If you would like to report a bullying situation via email or phone, please contact

Brandi Todd, Counselor
btodd@piedmont.k12.al.us
(256) 447-2829

Aaron Studdard, Assistant Principal
astuddard@pcsboe.us
(256) 447-2829

Adam B. Clemons, Principal
aclemons@pcsboe.us
(256) 447-2829

Communication is the key to stopping a bullying situation.